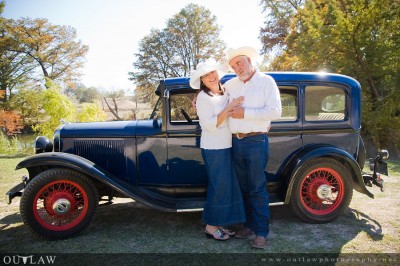 I knew levity would be a big part of my shoot with the Chastain family. Jim and Debbie have a great sense of humor, as do their kids – they were willing sports for all my over-caffeinated ideas as we shot with their antique auto.
When Jim pulled in in this beautiful ride with a loud "oooogah" honk from the horn, I knew we were going to have a great shoot.
The fall colors are finally coming down here in Bandera County, as evidenced by the yellow and gold leaves of the cypress trees lining the Bandera City Park along the Medina River.
With the drought here in Texas and the odd temperatures going into fall, I was wondering how much color we would see this autumn, but the park has produced some beautiful foliage, if only for a short time.
Here are a few highlights from my shoot with the Chastain family: